2021/22 Forecast: Travellers Shift from Long Weekend Getaways to Extended, Immersive Holidays
Pressemitteilung (Englisch)
While travellers continue to prioritise health and safety, they are increasingly looking to plan longer, immersive travel experiences to better appreciate nature, live in the moment and reconnect with friends and family, according to AmaWaterways' Co-owners Rudi Schreiner, Kristin Karst and Gary Murphy. The industry-leading executive team is starting 2021 with a look at several positive travel trends driving heightened demand and strong river cruise bookings for the year ahead: 
Celebration Travel – With many group gatherings to commemorate milestone birthdays and anniversaries postponed throughout 2020, celebration travel is anticipated to be a top trend among travellers of all ages in the year ahead. As loved ones search for a special way to make up for missed occasions, AmaWaterways is noting an uptick in multi-generational and multi-family travel bookings. With a choice of up to 23 optional tours included in seven-night river cruises, each member of the family can personalise their holiday while coming together to enjoy quality time back on board AmaWaterways' spacious, elegantly appointed ships. Of particular note are the 2021 Christmas Market and holiday cruises that are showing early booking levels well above previous years.
Longer Stays, Shorter Booking Windows – With international travel regulations still evolving, booking windows are expected to shrink, as travellers stand by ready to leap at the opportunity to escape to a new destination as soon as conditions are right. AmaWaterways' guests are also increasingly adding extensions to their seven-night river cruise – combining back-to-back cruises through Europe and adding pre- and post-cruise land packages. Topping the list are sought-after destinations like Bellagio, the "Pearl of Lake Como" with subtropical climates amidst snow-capped mountains and the legendary Transylvania, Romania, home to the legendary tales of Dracula's castle and the Palace of Parliament. In response to increased demand, AmaWaterways recently announced limited-time savings for travellers seeking longer trips, including 10 percent savings on back-to-back river cruises for bookings through 31 January 2021.
Slow Travel – Trend analysts report that more travellers are opting for unhurried and authentic experiences within less crowded destination that offer a true immersion in the region's culture, history, and gastronomy. With more leisure time in every port of call, river cruises allow travellers to explore at a slower pace and fully immerse themselves in every aspect of the destination – from sampling local cuisine and wines to venturing off the beaten path enjoying the line's complimentary bicycles. If expertly guided tours are preferred, thoughtfully curated options abound with more than 20 included excursions conducted in small groups of just 10 to 15 people. AmaWaterways' new itinerary, Impressions of the Seine & Paris, was specifically designed to allow a more leisurely pace to explore the rolling countryside and rich cuisine of Normandy with an optional three-night extension into the spellbinding St. Malo region of Brittany.
Regenerative Travel – Now more than ever, travellers are actively seeking ways to give back to destinations by contributing to local economies and choosing sustainable ways to explore the world. Working closely with its destination partners, AmaWaterways has developed new hosted events to support local economies, mingle with the community and personally contribute to the recovery of the destinations they visit. With sustainability and innovation as ongoing priorities, AmaWaterways also received the Green Award certification for its entire European fleet in 2020, ensuring an environmentally conscious experience for all.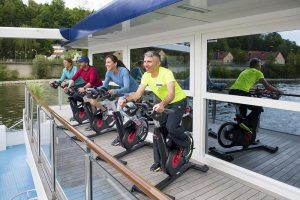 Holistic Wellness – With the pursuit of improved physical and mental health becoming more prevalent, the global pandemic has inspired many to focus on wellness, connect with new activities in the outdoors and improve their health and fitness. More people are pursuing travel that includes ways to continue to live an active, healthy lifestyle. Expanded in 2019, AmaWaterways' complimentary Wellness Programme includes dedicated Wellness Hosts on board its ships, guided hikes and bike tours through charming destinations as well as a variety of small group fitness classes that can be done on the spacious, open-air Sun Deck. Exclusively on board the revolutionary AmaMagna, guests can also enjoy spinning with a view (pictured right) or reserve, at an additional cost,  the Concierge Golf Programme which transports guests from the ship to five of the most desirable courses while cruising the Danube.
The Value of Travel Agents – AmaWaterways has always' worked hand in hand with the travel agent community and at a time with complex restrictions and policies, professional travel agents are more valuable than ever, serving clients with expert knowledge, destination insight and a personal touch to ensure a seamless transition throughout the voyage. To thank its loyal guests and their dedicated travel agents, AmaWaterways recently launched an all-new Referral Savings Offer that rewards both past guests and their newly referred friends and family with savings while encouraging all guests to book with a travel agent.
"North American luxury travellers are beginning to plan their next holiday, and based on what we are seeing, river cruises are poised to be among the first to bounce back to pre-pandemic levels," said Schreiner, president of AmaWaterways.  "River cruise holidays take place on smaller ships with fewer guests, cruise within countries and conveniently dock in the center of charming towns and hidden villages.  Looking ahead, we anticipate travellers will prioritise meaningful and authentic travel experiences that create true connections with their loved ones and the destination they are visiting. Travellers seeking this type of unique, intimate experience are driving increased demand for AmaWaterways."
AmaWaterways was the only luxury river cruise line to sail in Europe during 2020, successfully implementing enhanced protocols and procedures as part of a unique charter programme.  In 2021/22, the innovative river cruise line will debut five immersive new itineraries and new pre- and post-cruise land packages through culturally rich destinations. Three new ships are also set to sail for the first time in 2021, including the stunning AmaDahlia on the Nile (pictured on the right) and the elegantly appointed sister ships AmaSiena and AmaLucia on the Rhine.
Text: PM AmaWaterways