2022 Grand Voyage Caribbean Idylls & Mediterranean Masterpieces redesign of previously scheduled 2022 World Cruise
Pressemitteilung
Today Crystal Cruises unveiled its 2022 Grand Voyage, Caribbean Idylls & Mediterranean Masterpieces, a 132-night, ocean-spanning odyssey on Crystal Serenity from Miami to Los Angeles, January 17 – May 29, 2022. The expansive, destination-rich itinerary calls upon 82 ports in 32 countries and includes 11 overnights in some of the world's most iconic cities including Istanbul, Monte Carlo, Naples and Cannes, as well as the exclusive island enclaves of St. Barts, Madeira, the Canary Islands and more. Rarely repeating a port of call, the 2022 Grand Voyage allows guests to indulge their wanderlust with new destinations and in-depth explorations of each region. This new Grand Voyage replaces the line's 2022 World Cruise, which was canceled because many countries on the original itinerary remain uncertain in their ability to welcome guests back at this time.
"Our guests are extremely seasoned travelers who crave worldwide discovery, cultural immersion and the allure of exotic global destinations," said Jack Anderson, president of Crystal. "This expansive 2022 Grand Voyage has been artfully crafted to showcase rare ports of call and unique experiences that offer our guests a new twist on even the most well-loved destinations, while inviting them to enjoy the indulgences of Michelin-level cuisine, personalized service, unmatched spaciousness and luxurious all-inclusive amenities and comforts that remain the hallmarks of the Crystal Experience.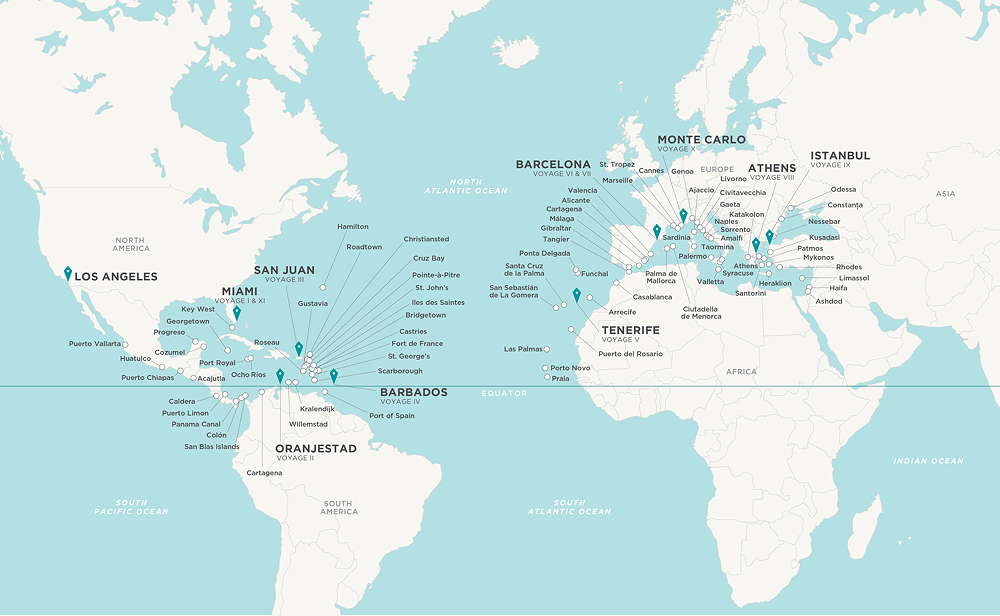 "We know our guests, especially our extended voyage guests, consider Crystal their second home and that both our guests and crew are part of one large Crystal family. Captain Birger Vorland and his crew are excited to welcome these guests back home to Crystal since having said goodbye to the World Cruise guests in Perth last year," Anderson continued.
The 2022 Grand Voyage's curated 132-night itinerary was designed for travelers with a pent-up desire for longer cruise vacations, while also offering those with more limited time for globetrotting the option to choose from 11 cruise segments ranging from nine to 16-nights – perfect for today's busy luxury traveler. With unique itineraries for each voyage segment and featured destinations including the Caribbean, Morocco, the Cote d'Azur, the Amalfi Coast, the Greek Isles, the Black Sea, the Holy Land and more, the options to create customized combinations for regional exploration are virtually endless. Reservations for the 2022 Grand Voyage will be open to 2022 World Cruise booked guests for an exclusive 10-day booking window from September 14 – 23 and to the public on September 24, 2021.
A standout feature of the 2022 Grand Voyage is the number of islands on the itinerary, 45 in total, including 19 calls in the Caribbean, and a rare immersive exploration of the Canary Islands with calls in six out of seven of the main islands and an overnight call in Santa Cruz de Tenerife. Other island explorations include the Cape Verde Islands, the Azores, Madeira, Gibraltar, the Balearic Isles, Corsica, Sardinia, Sicily, Malta, Crete, Cyprus, the Greek Isles and Bermuda.
Collectors of rare port experiences will enjoy several seldom visited ports of call showcasing incredible natural beauty and fascinating history including San Blas Islands, Panama; St. Croix, USVI; Ile des Saints, Guadeloupe; Cagliari, Sardinia; Praia and Santo Antão, Cape Verde Islands; Gaeta, Italy; Syracuse, Sicily and more.
Port-rich trans-Atlantic crossings, an abundance of UNESCO World Heritage Sites, a transit of the Panama Canal, and explorations of ancient empires, legendary art, magnificent architecture and natural wonders round out this all-encompassing grand ocean voyage.
Caribbean Idylls & Mediterranean Masterpieces departs Miami on January 17, 2022, bound for the warmth of the Caribbean on voyages exploring aquamarine waters, lush landscapes and cultural riches from the ABC isles of Aruba, Bonaire and Curacao to the eco-wonders of Costa Rica. Designed to follow the sun and the seasons the 2022 Grand Voyage offers guests the chance to enjoy the best weather of each destination from the sun-washed shores and balmy breezes of winter in the Caribbean to the welcoming climate of the Canary Islands, springtime in the Mediterranean and beyond.
When Crystal Serenity sets sail on the 2022 Grand Voyage, all guests (who are eligible for the COVID-19 vaccine) will be fully vaccinated as a requirement of the company's Crystal Clean+ protocols, established in response to COVID-19. Guests 12 and older must be fully inoculated with a COVID-19 vaccination at least 14 days prior to departure for all 2022 Ocean voyages including those guests embarking in Miami. One hundred percent of Crystal's officers and crew fleetwide will continue to be vaccinated in 2022 as a requirement for employment.
A leader in unrivaled luxury cruising for 30 years, Crystal Cruises distinguishes its ships and its voyages with fine details and nuances that make a big impact for discerning travelers. The all-inclusive experience features award-winning entertainment; diverse enrichment options; globally inspired dining, including Nobu Matsuhisa's only seagoing restaurants; unlimited pours of fine wines, beers and premium spirits and an unwavering standard of genuine, personal service for each guest.
Text: PM Crystal Cruises