Pressemitteilung
Seatrade Cruise Global, the premier cruise tradeshow, wrapped up its March 2023 edition bringing together more than ten thousand cruise industry attendees, eighty cruise lines, five hundred exhibitors, and representatives from over eighty five destinations attended the cruise industry's leading business to business conference and tradeshow at the Greater Fort-Lauderdale Broward Convention Center for optimum discussions with key take aways, on what success looks like; while sharing ship and destination updates and planning ahead.
The Antigua & Barbuda delegation was led by Minister of Tourism, Investment, Aviation and Transport, The Honourable Charles Max Fernandez, and included CEO of the Antigua & Barbuda Tourism Authority, Colin C. James, Javier Jacobs ABTA Operations Manager, Donyelle Bird-Browne, Senior Business Development Manager-Partnerships, Shamoi Richards, Business Development Manager for Canada, Dona Regis-Prosper Manager GPH Antigua Cruise Port and Antigua Port Manager Darwin Telemaque.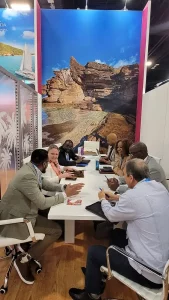 The team hosted dozens of meetings focused on the pertinent business of creating and maintaining partnerships, addressing any infrastructural requirements necessary, itinerary inclusion discussions, and updates on Barbuda at the destination dedicated strategic meeting. The supporting team at the destination's newly designed booth presented an energetic, united, fun, and up-beat vibe where all felt comfortable and relaxed conducting business, sharing information, and connecting face-to-face during the show
Other local partners who took advantage of the opportunity to be a part of team Antigua and Barbuda's efforts to increase its business from the sector included Bryson's Shipping and Insurance, Heavenly Tours, Tropical Adventures Antigua, The Rendezvous Company Antigua, and Fat Tire Electric Bike Tours.
Minister Charles Fernandez reiterated that attendance at Seatrade is a must as we continue to build our port reputation as a marque one. "Antigua & Barbuda is a leading cruise destination in the Caribbean and forums like Seatrade give the opportunity to build dynamic, market and data-driven business-to-business relationships. The convention integrates meetings and events with a broad array of industry insights, digital campaign reports, data-focused information, and solutions that create uniquely rich and vibrant destination experiences that must be included in the various cruise itineraries.
As true industry partners, we strive to build our stakeholders businesses by creating opportunities that inspire, amaze, and deliver with breakthrough results. With several cruise industry events each year, our teams are creators and connectors who are thoroughly immersed in the industry we serve, and committed to supporting the communities and destination in which we operate," said the Minister.
The recent investments in the industry have been yielding results, particularly for the upcoming summer season where some forty-two calls are already booked between April and August 2023 as compared with only three last year. The team also used the opportunity to share updates on all aspects of the destination ranging from the dredging of the harbour to the exciting new tours and excursions that present a win-win opportunity to both the cruise lines and local entrepreneurs to increase the earnings from the sector.
Colin C. James, CEO of the Antigua & Barbuda Tourism Authority remarked, "With each year since the pandemic, we continue to see cruise passenger interest, and port calls increasing, and this tradeshow and conference allows for us to share the continuance of that by recording a 78.7% increase, three hundred and forty-nine calls and just short of four hundred thousand passengers when compared to the previous year. We drew cruisers from the United States, Canada, UK, Europe, as far flung as Australia and now especially with our homeporting initiative, the surrounding Caribbean".

The destination's profile as an industry "thought leader" was significantly raised by participation in general conference forums such as one that looked at "A Future in Tourism" where Dona Regis-Prosper, the country's General Manager of the Antigua
Cruise Port shared her experiences on a high-profile panel attended by conference delegates.
The destination and attendees received the positive news that the upward trajectory will continue as we end the first quarter of the year with sixty-nine calls and 384,257 passengers. The end of 2023 will see 600,000 passengers, including the 6,800 expected through homeporting calls.
Four cruise lines have confirmed homeporting operations, inclusive of luxury brand Emerald Cruises beginning in November 2023 with a weekly call and bunkering. Sea Dream Cruises will follow as of November 2024. The attendance of James Lee a senior pilot from the Port Authority who was instrumental in safely bringing in the Carnival UK's Arvia the largest ship to ever visit our shores was well received by our cruise line partners. This has given them the confidence that port St Johns is safe with highly skilled pilots capable of docking the largest ships that are now being built by the industry.
Juan Trescastro VP of Global Destinations for Virgin Voyages, the industry's newest cruise line confirmed that they will now commence calls to Antigua with the "Brilliant" in Jan 2024. Antigua will be the last port before the ship returns to SJU and they will stay in port until 10:00 p.m. This will significantly increase the on island spend with these calls. The ship will call every other week for 8 calls during the upcoming season.
Team Antigua and Barbuda also used the opportunity to update the Royal Caribbean Group (RCG) on the dredging progress with regards to the readiness of the destination to safely receive the Oasis Class vessels for the next cruise tourism season.
Seatrade Cruise Global also presented several special events and opportunities for representing, learning, and training for all attendees. Key events included an opening keynote address, under the conference theme "Forward Momentum" on Tuesday morning, and explored topics on environmental sustainability, destination stewardship, consumer travel trends, new ships, and new cruise experiences.
Other events included "Tomorrows Talent Today" a dedicated programme for HR, training, and recruitment professionals in cruise, as well as professors and students from universities, colleges and training institutes specializing in cruise-related courses. In addition, there were cruise line, and destination-sponsored entertainment breaks, professional learning workshops, and presentations.
Seatrade Cruise Global is a dynamic event resource and is critical for Antigua and Barbuda in conducting business with our industry partners in a way that drives additional business as the country aims to take its cruise industry to the next level.
Text: PM