Der Einmarsch russischer Truppen in die Ukraine hat Schockwellen in der Ostsee ausgelöst. Nach dem 24. Februar sah es kurz so aus, als ob die Ostsee auch als Kreuzfahrtdestination einen schweren Dämpfer im ersten Jahr nach der Corona-Pandemie bekommen würde. Doch es kam anders. Nie zuvor gab es in der Ostsee so viele Hafenbesuche von Kreuzfahrtschiffen wie 2022. Das Analyse-Netzwerk Statista erfasste für 2022 bislang 2788 Hafenanläufe von Hochseekreuzfahrtschiffen. Das sind genau 101 mehr als im letzten Rekordjahr 2019.
Seit 2000 stiegen die Zahlen der Anläufe pro Jahr von 1453 auf jetzt fast 2800. Nach den Corona-Jahren 2020 und 2021 mit 109 und 648 Schiffsanläufen ist die Kreuzfahrt wieder in der Ostsee angekommen – und zwar ganzjährig. Erstmals gibt es auch Eisfahrten in das Bottnische Meer im Januar und Februar. Hinzu kommen die Spezialreisen mit Eisbrechern, Windjammern und Forschungsschiffen.
Der Boykott der russischen Häfen St. Petersburg und Kaliningrad schlägt sich nicht in den Anlaufzahlen nieder. Profiteure des Russland-Boykotts sind die baltischen Staaten und die schwedischen Inseln Gotland und Öland sowie kleinere Häfen an der schwedischen Küste. Größter Gewinner ist Riga. Die lettische Hauptstadt wird in diesem Jahr einen Rekord bei den Schiffsbesuchen erzielen.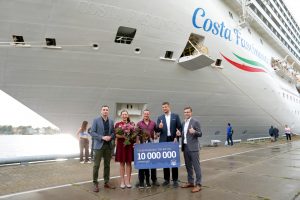 Am 7. August vermeldete der Freeport Riga den 10-millionsten Kreuzfahrtpassagier. Das Kreuzfahrtschiff Costa Fascinosa traf diese Ehre. Die deutsche Urlauberin Tanja Kassandra Karin Bittner aus dem bayrischen Weiherhammer bekam die Auszeichnung. Mārtiņš Staķis, Bürgermeister von Riga und Viesturs Zeps, Vorstandsvorsitzender des Freeport of Riga, nahmen die Jubiläumspassagierin mit ihrer Familie und die weiteren Gäste feierlich in Empfang. Für Tanja und ihre Familie war es der erste Besuch in Riga – auf dem Programm standen die historische Altstadt, der Zentralmarkt und mehrere kulinarische Highlights. Am Abend gab es dann noch eine Überraschung vom Freeport of Riga. Die Familie wurde zu einem Essen im historischen House of the Bleakheads eingeladen.
Costa ist zusammen mit NCL, MSC und Celebrity einer der Stammkunden des Hafens Riga, seit 2005 haben acht verschiedene Schiffe der Costa-Flotte den Hafen von Riga angefahren und fast 145.000 Passagiere in die Stadt gebracht. Den Start machte die Costa Marina. Einen Rekord im Hafen von Riga hält die Costa Pacifica mit 3.523 Gästen an Bord beförderte sie die größte Anzahl an Passagieren mit einem Schiff nach Riga.
"Diese Stadt ist ein sehr geschätztes Reiseziel und einer der Gründe, warum sich unsere Gäste, vor allem deutsche, für eine Costa Kreuzfahrt in Nordeuropa entscheiden. Wir freuen uns sehr, dass der 10-millionste Passagier im Hafen von Riga mit uns auf der Costa Fascinosa reist", sagte Kapitän Mario Moretta, Master des Schiffes.
In Riga werden in diesem Jahr 104 Schiffsanläufe von Kreuzfahrern erwartet. Das ist ebenfalls neuer Rekord. Im Vor-Corona-Jahr 2019 war der alte Rekord mit 81 Anläufen aufgestellt worden.
Riga wird auch 2023 wieder im Programm bei Costa sein. Am 27. Juni 2023 startet die Costa Fascinosa wieder ab Kiel zu Ostseerundreisen mit Anläufen in Riga, Tallinn und auch Klaipeda. Primus ist mit rund 200 Anläufen der Hafen von Tallinn. Allerdings leidet Tallinn unter den Absagen wegen der Nähe zu St. Petersburg. Bis zum Ukraine-Krieg hatte Tallinn fast 350 Anmeldungen für 2022. Wegen der Umroutungen wurde der Hafen dann nicht selten auch gleich zusammen mit St. Petersburg gestrichen.
Stockholm und Helsinki haben sich mit 150 bis 200 Anläufen dagegen sehr gut etabliert. In den Häfen ist außerdem der Trend zu längeren Liegezeiten erkennbar. 36 bis 48 Stunden Liegezeit sind nicht selten. FB