Gut ein Jahr nach dem am 14. Juni 2021 bei der Meyer Werft in Turku erfolgten Brennstart für das Typschiff der neuen Icon-Klasse der zur Royal Caribbean Group gehörenden Reederei Royal Caribbean International, die Ende 2023 zu liefernde Icon of the Seas, präsentiert die Reederei jetzt erste Einzelheiten zu diesen innovativen Schiffen.
Die drei für je rd. 1,1 Mrd. US-Dollar bei Meyer fest bestellten Neubauten sollen nicht nur als weltgrößte Kreuzfahrtschiffe, sondern auch durch ihr komplexes und innovatives Angebot für die Passagieren, sowie ihre Effizienz und Umweltverträglichkeit Maßstäbe für die Branche setzen.
---
---
Die beiden ersten Einheiten dieser Klasse hatte Royal Caribbean am 10. Oktober 2016 bei Meyer zur Lieferung im 2. Quartal 2022 (Bau-Nr. 1400) und 2024 (Bau-Nr. 1401) geordert, Anfang Juli 2019 wurde noch ein dritter Nachbau (Bau-Nr. 1402) zur Lieferung 2025 nachbestellt. Inzwischen wurden die Ablieferungsdaten auch vor dem Hintergrund der Pandemie auf das 3. Quartal 2023, 2. Quartal 2025 bzw. 2. Quartal 2026 verschoben. Bei den nach den Vorschriften und unter Aufsicht der Klassifikationsgesellschaft DNV zu erstellenden Neubauten mit einer Länge von 365 m handelt es sich um ca. 250. 800 BRZ große Schiffe mit 20 Decks, davon 18 für Passagiere, die maximal 7600 Gäste und 2350 Besatzungsmitglieder an Bord nehmen können.
Erstes Schiff der Reederei mit LNG-Antrieb und Brennstoffzelle
Besonderer Fokus wurde auf die Implementierung modernster Umweltschutz-Technologien gerichtet. Neben dem Betrieb der Motorenanlage mit verflüssigtem Erdgas (LNG) wird eine Luftblasen-Schmierung des Unterwasserschiffes den Reibungswiderstand deutlich reduzieren und durch ein fortschrittliches Abwärme-Rückgewinnungssystem sollen bis zu 3 MW zusätzlicher Energie generiert werden. Wie bereits mehrfach berichtet, kommt erstmals auch Brennstoffzellen-Technologie (von ABB) für die Bordnetzversorgung und zur Frischwassererzeugung zum Einbau. Die Maschinenraummodule (FERUs) werden von der zur Meyer Werft-Gruppe gehörenden Neptun Werft in Rostock zugeliefert. In Verbindung mit weiteren Energieeinsparungsmaßnahmen und dem Landstromanschluss wird das neue RCI-Flaggschiff zum nachhaltigsten Schiff der Reedereiflotte.
---
Crown's Edge, Animationen: Royal Caribbean
---
Nach Angaben der Reederei wird der als Werft-Nr. 1400 geführte Neubau, der am 4. April dieses Jahres auf Kiel gelegt worden ist, die "erste Kombination in der Reisebranche sein, die das Beste aus jedem Urlaub vereint". Vom Strandurlaub über den Aufenthalt in einem Resort bis hin zum Erlebnis in einem Themenpark könnten Familien und Abenteurer ihre Version des ultimativen Urlaubs erleben.
"Mit jedem neuen Schiff legen wir die Messlatte in der Reisebranche höher und verbessern gleichzeitig das, was unsere Gäste kennen und lieben", so Jason Liberty, Präsident und CEO der Royal Caribbean Group. "Von dem Moment an, an dem sie an Bord gehen, ist jedes Erlebnis speziell darauf ausgerichtet, ihnen den besten Urlaub an Land und auf See zu bieten. Mit der Icon of the Seas haben wir dies auf ein neues Niveau gebracht und damit den ultimativen Familienurlaub geschaffen."
"Icon of the Seas ist die Krönung von mehr als 50 Jahren unvergesslicher Erlebnisse und unser nächstes mutiges Resultat für alle, die ihren Urlaub lieben", ergänzt Michael Bayley, Präsident und CEO von Royal Caribbean International. "Heute legen Familien und Freunde mehr denn je Wert auf Erlebnisse, bei denen sie zusammenkommen und ihre eigenen Abenteuer erleben können. Wir haben uns vorgenommen, einen Urlaub zu bieten, der all das an einem Ort möglich macht – für Abenteuerlustige, Ruhesuchende und all jene dazwischen, ohne Kompromisse. Diese einzigartige Kombination macht Icon zur Zukunft des Familienurlaubs – und diese Zukunft ist jetzt schon da."
Acht "Stadtviertel" als Reiseziele an Bord
Nach Angaben von Royal Caribbean wird es an Bord acht Stadtviertel geben, die Tag und Nacht zum Leben erwachen, darunter fünf neue Attraktionen und drei von anderen Schiffen der Reederei bekannte Lieblingsorte. Jedes dieser Viertel sei ein Reiseziel für sich, und biete einer Reihe von Erlebnissen, Live-Unterhaltung und Möglichkeiten, etwas zu essen und zu trinken.
---
---
Zu den fünf neuen "Stadtvierteln" gehört "Thrill Island". Dort können die Gäste ihre Grenzen austesten, neue Höhen erklimmen und Höchstgeschwindigkeiten erreichen. Dieses verlorene Inselabenteuer beherbergt Highlights wie "Category 6", den größten Wasserpark auf See, mit sechs spektakulären Rutschen: "Pressure Drop" ist mit seiner 66-Grad-Neigung die erste offene Freifallrutsche der Branche, der 14 Meter hohe "Frightening Bolt" ist die höchste Fallrutsche auf See, "Storm Surge" und "Hurricane Hunter" sind die ersten Familien-Rafting-Rutschen auf See mit vier Fahrern pro Raft, dazu "Storm Chasers" als erstes Mattenrenn-Duo auf See. Mit "Crown's Edge" bekommt das Leben am Abgrund eine neue Bedeutung. Teils Skywalk, teils Hochseilgarten und teils Nervenkitzel gipfelt es in einem überraschenden Thrill-Moment, bei dem die Reisenden 47 Meter über dem Meer schwingen.
---
---
Von den sieben Pools an Bord befinden sich vier in "Chill Island", einem kleinen Paradies mit drei Decks. Es gibt einen Pool für jede Stimmung, jeder mit Blick auf das Meer: das lebhafte "Swim & Tonic", die erste Swim-up-Bar der Reederei auf See, den "Royal Bay Pool", der größte Pool auf See, "Cloud 17", ein Rückzugsort nur für Erwachsene, und den langen "Cove Pool". Außerdem kehrt "The Lime & Coconut" zurück, darunter die erste gefrorene Cocktailbar von Royal Caribbean. "Surfside" ist ein Viertel, das speziell auf junge Familien zugeschnitten ist – Erwachsene und Kinder bis zu sechs Jahren können dort den ganzen Tag verbringen und spielen. Erwachsene genießen am "Water's Edge Pool" die Aussicht, während sie am "Splashaway Bay" und "Baby Bay" ein Auge auf ihre Kinder haben. Nur wenige Schritte entfernt befinden sich Speisemöglichkeiten, Lounge-Plätze, eine Bar, das charakteristische Karussell, eine Spielhalle, "Adventure Ocean" und "Social020" für Teenager.
---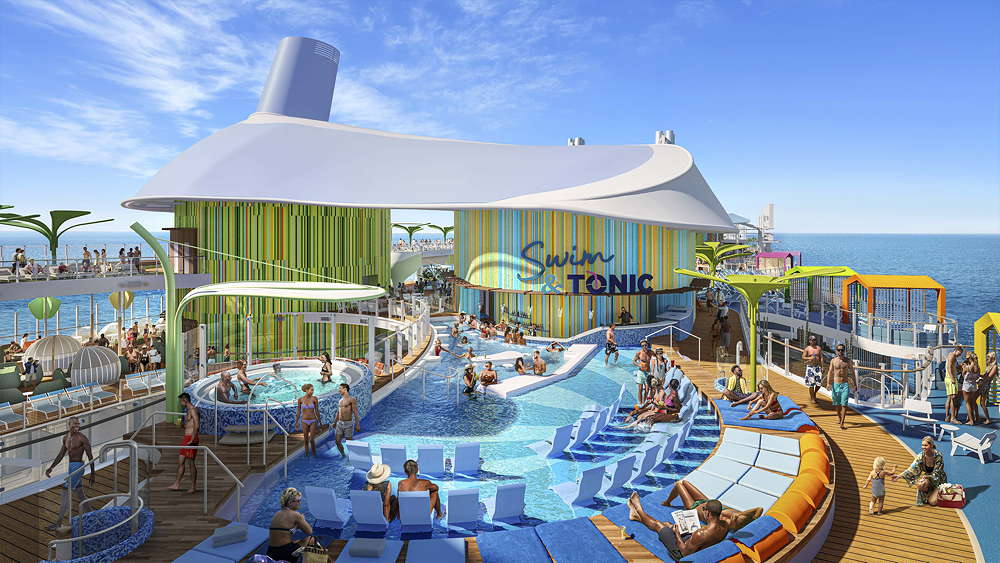 Animationen: Royal Caribbean
---
Erster schwebender Infinity-Pool auf See
Im gut 40 m über dem Meeresspiegel liegenden Viertel "The Hideaway" verbindet sich die Stimmung von Beachclubs mit dem ungestörten Meerblick. Der erste schwebende Infinity-Pool auf See ist das Zentrum des Ganzen und wird von einer mehrstöckigen Sonnenterrasse mit Whirlpools, einer Vielzahl von Sitzgelegenheiten und einer eigenen Bar umgeben.
---
---
Auf dem obersten Deck im Vorschiff der der Icon of the Seas bietet der "AquaDome" den Gäste einen einzigartigen Ort der Verwandlung: Tagsüber können sie in einer ruhigen Oase den Blick auf den Ozean und einen beeindruckenden Wasserfall genießen. Nachts verwandelt sich das Schiff in einen pulsierenden Ort, der mit Restaurants, Bars und den von den Schiffen der Oasis-Klasse bekannten großen Aqua-Shows im "AquaTheater" zum Ausgehen einlädt. Das unverwechselbare Unterhaltungszentrum soll neue Maßstäbe in Sachen Kunst und Spitzentechnologie – mit einem sich verwandelnden Pool, vier Roboterarmen, modernster Projektion und vielem mehr bieten.
Drei vertraute "Stadtviertel" in optimierter Auslegung
Zu den drei von anderen RCI-Schiffen als Lieblingsorte bekannten Vierteln gehört die auf der Icon-Klasse großzügiger gestaltete "Royal Promenade". Sie bietet den ersten raumhohen Meerblick sowie mehr als 15 Restaurants, Cafés, Bars und Lounges. Der ebenfalls von den fünf Schiffen der Oasis-Klasse bekannte und hier – ebenfalls mit natürlichen Pflanzen – auf einer innenliegenden und nach oben offenen Promenade üppiger und lebendiger ausgestaltete "Central Park" verfügt über mehr Möglichkeiten zu speisen und sich unterhalten zu lassen. Die größte Suite "Neighborhood" ist auf drei Decks luxuriös konfiguriert und bietet zusätzlich ein mehrstöckiges Suiten-Sonnendeck – "The Grove" – mit privatem Pool, Whirlpool und Essbereich sowie eine zweistöckige "Coastal Kitchen". Zu den weiteren vertrauten Favoriten gehören Erlebnisse wie die neue Variante des Minigolfs, Klettern im "Adrenaline Peak" und "Absolute Zero", die größte Eisarena in "Lost Dunes", sowie gastronomische Einrichtungen wie "Giovanni's Italian Kitchen & Wine Bar" an der Royal Promenade und das asiatisch inspirierte "Izumi" im Central Park.
---
---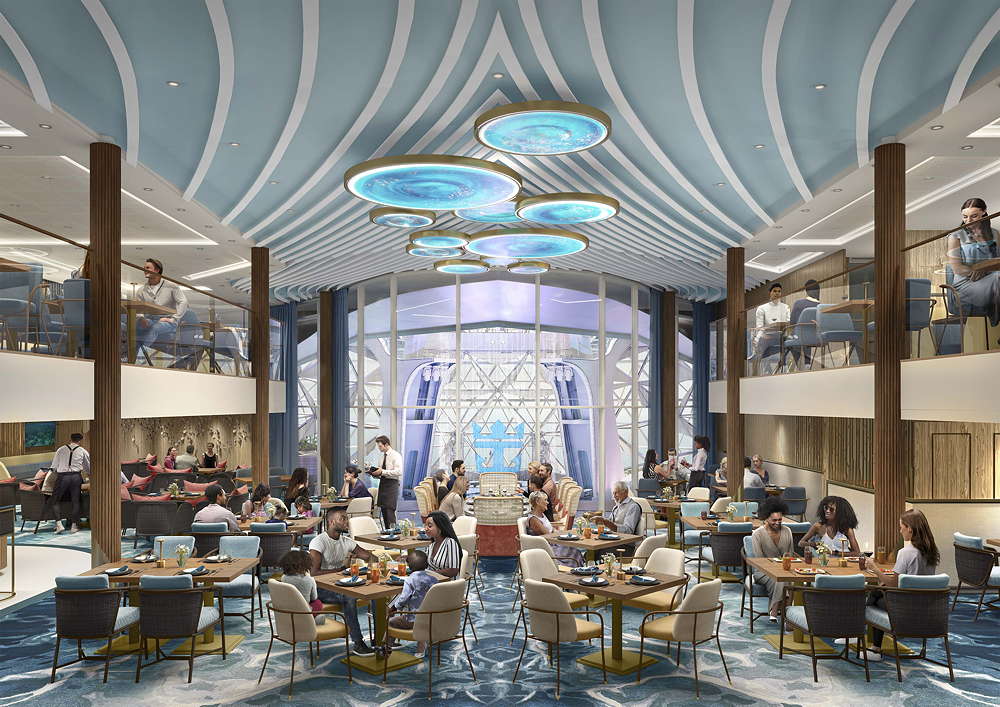 ---
Den 5610 (max. 7600) Gästen werden 28 Kabinenkategorie geboten, die mit mehr Platz und Auswahl den Ansprüchen jedes Urlaubertyps gerecht werden sollen. So gibt neue Kabinen-Grundrisse für Familien mit drei, vier, fünf und mehr Personen, wie zum Beispiel die "Family Infinite Balcony-Suite" und die "Surfside Family Suite" – mit Nischen für die Kinder, die von den Erwachsenen getrennt sind, sowie das dreistöckige "Ultimate Family Townhouse", das über einen eigenen weißen Zaun und einen Briefkasten verfügt. 82 Prozent der Kabinen sind für drei oder mehr Gäste ausgelegt, mehr als 70 Prozent verfügen über einen eigenen Balkon. Die besten Aussichten versprechen die ersten "Sunset Corner Suiten" und die "Panoramic Ocean Views" im "AquaDome".
---
---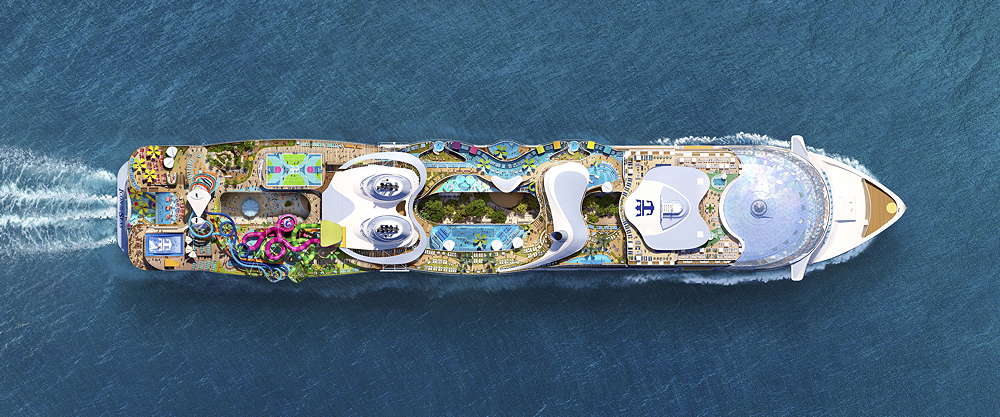 ---
Animationen: Royal Caribbean
---
Der neue Standard erstreckt sich auch auf die Unterbringung derjenigen, die nach Angaben der Reederei "das Herzstück von Icon of the Seas sind" – die Crew. Die Räumlichkeiten, in denen sie lebt wurden mit einem intuitiveren Design, mehr Annehmlichkeiten, Räumen und Aktivitätsangeboten neu gestaltet, einschließlich einer neuen, patentierten Kabine, die von der Crew für die Crew entwickelt wurde.
Die Icon of the Seas wird ganzjährig zu 7-Nächte-Rundreisen in die östliche und westliche Karibik ab Miami eingesetzt, wobei auf jeder Reise das private Royal Caribbean-Inselziel Perfect Day at CocoCay auf den Bahamas besucht wird. Mit der Indienststellung des Neubaus wird Royal Caribbean auch die Inseloase Hideaway Beach eröffnen, die nur für Erwachsene zugänglich ist und über einen großen Pool, private Cabanas mit Pools verfügt. Angelaufen werden zudem karibische Highlights wie Cozumel, Mexiko, Philipsburg, St. Maarten und Roatan, Honduras. Die am 27. Januar 2024 beginnenden Reisen sind bereits ab dem 25. Oktober 2022 auf der Website von Royal Caribbean buchbar. JPM