Pressemitteilung
Sweden's newest major freight port, Stockholm Norvik, opened for business in 2020. Now it is officially inaugurated by His Majesty The King and Her Royal Highness The Crown Princess.
Sweden's newest freight port opened for business already in 2020, exactly on time and on budget. The opening, however, was just when the pandemic was at its height, which meant that the official opening ceremony had to be postponed. On 26 April 2023 it was finally time for His Majesty The King and Her Royal Highness The Crown Princess to visit Stockholm Norvik Port and ceremonially cut the ribbon.
"At last! It gives us great pleasure to be able to officially open Stockholm Norvik Port.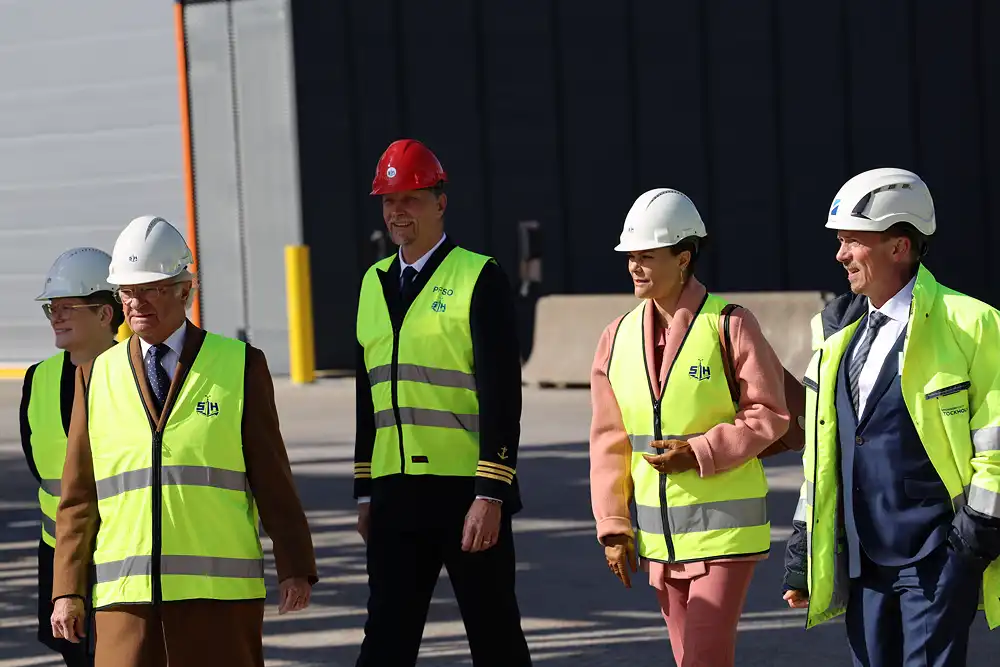 The Crown Princess and I have been given a guided tour of the ports and are very impressed by these modern facilities, the different modes of transport that meet here, the flow of goods that connects Stockholm to the rest of the world, and all the new green technology that has been developed here. Instead of the inauguration of a newly opened port, I have had the pleasure of inaugurating a fully operational port," states His Majesty The King.
Stockholm was already a port even before it became a city. The port and its location were fundamental reasons for Stockholm becoming Sweden's capital city. Down the ages, Stockholm's ports have adapted and grown as the city has grown. This has taken many different forms, but has been vital to Stockholm's prosperity. Around 100-years ago much of the port activities moved from the inner city to the Värtahamnen and Frihamnen districts of Stockholm. At that time it was His Majesty The King's great grandfather, Gustaf V, who ceremonially opened the new Frihamnen Port.
Now, a century later, His Majesty The King has inaugurated a new port that provides Sweden's largest consumer area with a modern port infrastructure for the coming 100 years.
"The sustainable supply of goods to the Stockholm Region is one of Ports of Stockholm's most important roles. Today nine goods in ten arrive in Sweden by sea, and Stockholm is by far the largest consumer region in the country. We want to provide the optimal preconditions to get these goods as close to their final destination by sea as possible. This state-of-the-art port in the best possible location is not only important for the Stockholm Region, but for much of Sweden in general. We have built a port that has the latest technology and we are immensely proud that we completed a construction project of this magnitude on time and on budget," explains Karin Wanngård, Mayor of Stockholm.
Stockholm Norvik Port is a brand new RoRo and container port with the best possible location in the Baltic Sea. Short approach lanes and efficient transport links provide direct access to one of the most rapidly growing regions in Europe.
More information can be found at https://www.portsofstockholm.com/stockholmnorvik
Text: PM Ports of Stockholm