Pressemitteilung
Helsinki Shipyard is currently building a three-ship series for the cruise shipping company Swan Hellenic. The first ship in the series got water under its keel on Wednesday, 23 June. At the same time, the hull of the second ship, which already has a ship shape, was floated in the dry dock. The production of the third vessel in the series started on June 10.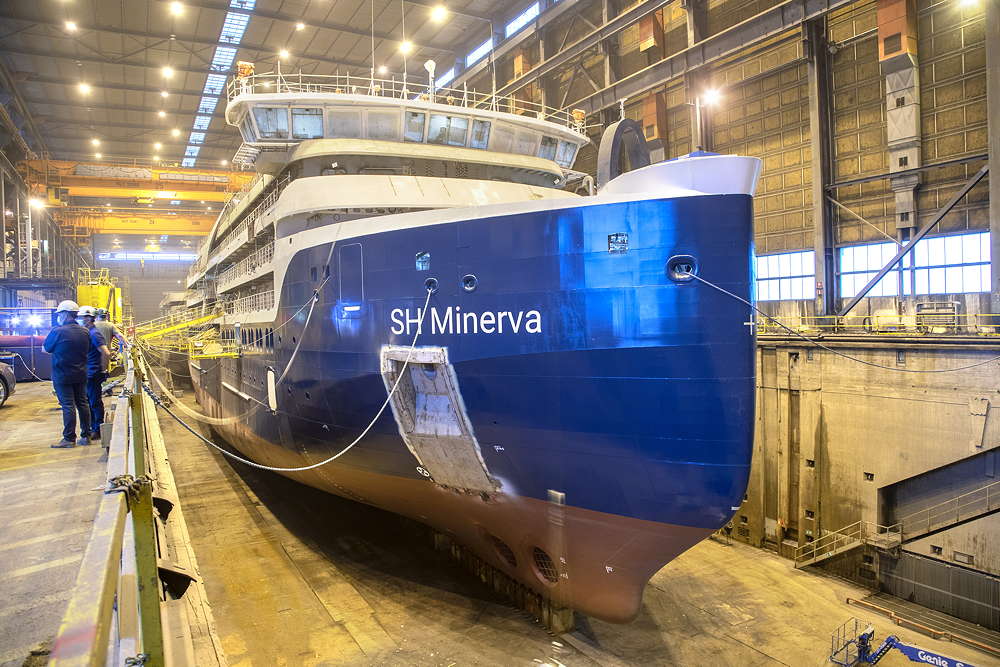 The ships being built at Helsinki Shipyard are designed to meet the latest emission standards in order to minimize their impact on the environment. Preparations are made for implementing battery technology, which would make it possible to operate also silently. This allows the vessel to move, for example, in sensitive polar nature with minimal disturbances. The vessels are equipped with exhaust gas cleaning, advanced treatment system for wastewater and storage facilities for waste that are required for operating in sensitive polar areas.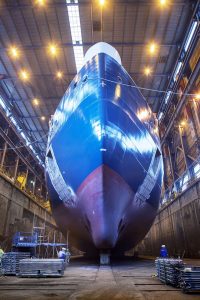 The state of art infotainment system provides the cruise passengers with a personal experience and a possibility of sharing their experiences in real time. The ship facilities with open views are designed to provide excellent opportunities to experience the nature surrounding the ship. Onboard you will find also an expedition laboratory and library for studying marine life, and in the observation lounge lectures are held by the experienced expedition leaders and specialists. Expedition day trips on the rubber boats to interesting surrounding areas are central part of the program onboard. Available also kayaking, trekking and other activities. Available also gym, spa & sauna, top quality restaurant and club lounge, as well a pool deck with bar.
"The vessel, which has now been launched, is a forerunner in many respects. The ship's ice class says its structure is top-notch and is guaranteed by Helsinki Shipyard's solid experience in building ice class vessels. The ship is designed for top class cruising, with small amounts of passengers, giving a prestigious cruising experience for intelligent customers." says Esko Karvonen, CEO, Helsinki Shipyard.
The first of the ships under construction at Helsinki Shipyard will be handed over to its client in Fall 2021, the second in Spring 2022 and the third in Fall 2022.
Text: PM Helsinki Shipyard
---
Swan Hellenic: Expeditionsschiff »SV Minerva« verlässt Baudock
Pressemitteilung
Erstes von drei neuen Expeditions-Kreuzfahrtschiffen vor Fertigstellung
Schwesterschiff »SH Vega« auf Helsinki Ship Yard Oy aufgeschwommen
Swan Hellenic setzt mit kleinen Schiffen auf viel Raum pro Passagier
In diesem und im kommenden Jahr starten für Swan Hellenic gleich drei neue Expeditions-Kreuzfahrtschiffe im 5-Sterne-Bereich, die derzeit auf der Schiffswerft in Helsinki entstehen. Heute hat der erste Neubau »SH Minerva« pünktlich das Baudock verlassen, zeitgleich konnte für das Schwesterschiff »SH Vega« das Dock geflutet werden. Für das dritte, etwas größere Schiff der künftigen Flotte, erfolgte der Baustart mit dem obligatorischen Stahlschnitt. Andrea Zito, CEO von Swan Hellenic: "Wir sind begeistert von der Qualität der Arbeit der Helsinki Shipyard Oy. Es ist wunderbar zu sehen, dass unsere Vision so gut umgesetzt wurde und wir sicherstellen können, dass unsere Gäste an Bord vom ersten Augenblick an begeistert sein werden."

Alle drei neuen Expeditions-Kreuzfahrtschiffe erfüllen höchste Abgasnormen
Alle drei Neubauten von Swan Hellenic sind auf minimale Umweltbelastung ausgelegt, erfüllen höchste Abgasnormen und stellen die nächste Generation von Expeditionsschiffen für polare Gewässer dar.
Sowohl die »SH Minerva« als auch das im Frühjahr 2022 folgende Schwesterschiff »SH Vega« werden von einem dieselelektrischen 5-Megawatt-Antriebssystem mit selektiver katalytischer Reduktion angetrieben, das maximal 3 Megawatt aufnehmen kann. Die Batteriepakete ermöglichen eine emissionsfreie und leise Einfahrt in Häfen und sensible Regionen. Dazu kommen ein eisverstärkter PC5-Rumpf und ein Safe Return to Port-System.
Unter dem Motto: "Sehen, was andere nicht sehen!" führen die Routen in die entlegensten Regionen der Erde: Entlang des mächtigen Jenissei-Flusses im Norden Sibiriens, in arktische und antarktische Gewässer oder in den Südpazifik.

Stolz auf eines der besten BRT-Passagier-Verhältnisse
Mit skandinavischem Design, weitläufigen Decks, Kabinen mit großen Balkonen, hervorragenden Lektoren und Gastrednern sowie einem All-Inclusive-Konzept setzt Swan Hellenic auf Eleganz im 5-Sterne-Bereich für ein internationales, reiseerfahrenes und kulturinteressiertes Publikum.
Ein 120-köpfiges Team an Bord kümmert sich um maximal 152 Gäste. Bei einer Größe von 10.500 BRT und einer Länge von 113 Metern bietet Swan Hellenic eines der besten BRT-Passagier-Verhältnisse.
Dazu kommt modernste Hygienetechnologie in den Klimaanlagen mit HEPA-Filtern und UV-Desinfektionssystemen.
Weitere Informationen: www.swanhellenic.com
Text: PM Swan Hellenic