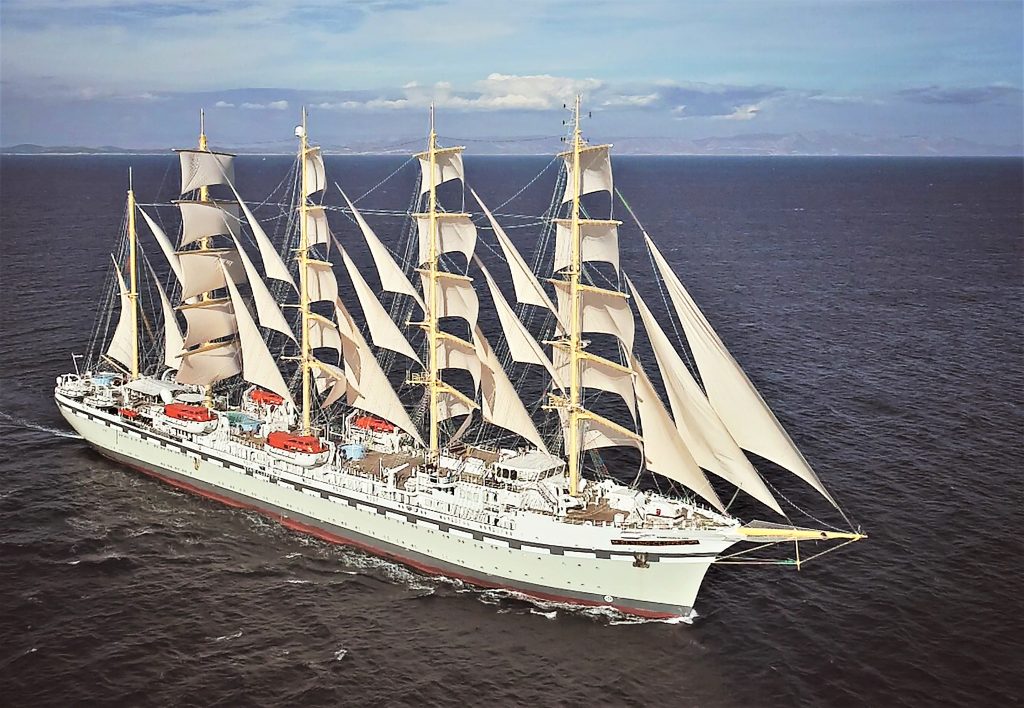 Das Ende März von einem niederländischen Schiedsgericht beendete Arbitrageverfahren zwischen der kroatischen Werft Brodosplit und der monegassischen Reederei Star Clippers über die Abnahme der im Sommer 2019 als Bau-Nr 483 fertiggestellten Fünfmast-Kreuzfahrtbark hat zu einen Schiedsspruch geführt, der offensichtlich beiden Seiten Ansätze für gegensätzliche Auslegungen lässt. Während der ursprüngliche Auftraggeber Star Clippers, der den Neubau unter dem Namen Flying Clipper als sein neues Flaggschiff in Dienst stellen wollte, davon ausgeht, dass die Ansprüche der Werft gegenüber der Reederei in vollen Umfang zurückgewiesen wurden und in einem Statement ("an Bord"-Meldung/Newsletter vom 31. März) Schadensersatzforderungen in beträchtlicher Höhe ankündigte, weist die Werft gegenüber "an Bord" darauf hin, dass das Schiedsgericht die Forderung der monegassischen Reederei auf Lieferung des Schiffes klar zurückgewiesen habe. Zugleich halte die Eignergesellschaft des Neubaus, die der Bauwerft bzw. ihrem Mutterkonzern nahestehende XB AHTS Hero Shipping Inc, die Reederei Star Clippers für alle Schäden verantwortlich, die ihr durch die widerrechtliche Blockierung ihrer Interessen beim Transfer der Golden Horizon und dem Betrieb des Schiffes sowie dessen Vermarktung entstanden sind.
---
Brodosplit-Statement vom 07.04.2021

1. Most important, Tribunal dismissed Star Clippers' claim for delivery of Golden Horizon. The Tribunal found Star Clipper's claims for delivery of Golden Horizon and preliminary measures ordered on Star Clippers' request which prevented the transfer of the vessel without any legal grounds and unlawful. The outcome of these decisions is that all further attempts to prevent the operation of Golden Horizon are disabled.

2. Golden Horizon's owner (XB AHTS Hero Shipping Inc) holds Star Clippers liable for damages it had caused to Hero's interests by unlawfully blocking the transfer of Golden Horizon and by all other Star Clippers' actions obstructing marketing and operation of Golden Horizon. To secure its claim Hero has obtained from Dutch court the leave for attachment of Star Clippers bank accounts over EUR 23m.

3. Concerning amounts awarded by Tribunal to Star Clippers and mortgage on the Vessel securing part of these amounts, it has to be noted that they are realistic and expected that, and Brodosplit has never disputed its obligation to pay Star Clippers the value of Buyer's Supply and even earlier approached the Star Clippers with a proposal to voluntarily pay the awarded amounts in exchange for releasing a mortgage on Golden Horizon. But Star Clippers then had refused, and now they boast of a big win in the verdict, although it is a minimum percentage of the total value of Golden Horizon.

These are the key facts from the arbitration panel's decision, and Tradewind Voyages holds a valid charter agreement with the shipowner, that enables it to operate Golden Horizon unhindered and to deliver the planned itineraries.
---
Damit ist nach Angaben von Brodosplit klargestellt, dass der derzeit am Ausrüstungskai der Werft liegende Neubau weiter auf seinen künftigen Einsatz vorbereitet und rechtzeitig von seiner Eigentumsgesellschaft XB AHTS Hero Shipping Inc. als Golden Horizon in eine Charter mit dem – wie die Bauwerft – ebenfalls zur DIV-Gruppe gehörenden britischen Veranstalter Tradewind Voyages UK Ltd. angeliefert werden kann. Dazu sollte der für 272 Gäste ausgelegte und auch über eine hohe Eisklasse verfügende weltgrößte Rahsegler-Neubau nach letztem Stand am 22. Juni in Portsmouth eintreffen und seine Corona-bedingt auf den 1. Juli verschobene erste Reise in britischen Gewässern antreten ("an Bord" 14.03.21). Für das Crewing ist die Managementfirma V.Ships Leisure verantwortlich, die nicht nur für das international zu rekrutierende Personal für den Decks- und Maschinenbereich, sondern auch für den Hotelbereich zuständig ist. Die Vermarktung der Reisen in den deutschsprachigen (DACH)-Märkten wurde im März dieses Jahres der in Dolgesheim ansässigen Firma M'Ocean als Generalagentur übertragen. JPM