Pressemitteilung
Inmitten eines spektakulären Lichtermeers: Port Canaveral in Florida erleuchte, als Royal Caribbean International die Wonder of the Seas offiziell in die Familie aufnahm. Mit der ultimativen Kombination aus Neuheiten und gewohnten Erlebnissen für Eltern, Kinder und Großeltern wurde das neueste Schiff der Kreuzfahrtgesellschaft von seiner Taufpatin und Wonder Mom Marie McCrea aus Pennsylvania getauft. Die abendliche Zeremonie war zudem der Beginn eines neuen Kapitels für die Wonder, die als ganzjähriges Familienurlaubsziel in Port Canaveral im wahrsten Sinne des Wortes Wellen schlagen wird. 
Um die passende Taufpatin zu finden, hatte Royal Caribbean auf TikTok den Wettbewerb #SearchforWonderMom gestartet, bei dem 16.000 Videos gepostet und 10,6 Milliarden Hashtag-Aufrufe verzeichnet wurden. Die Suche nach einer Taufpatin wurde beendet, als das Kreuzfahrtunternehmen Marie McCreas Geschichte hörte. Die Geschichte einer hingebungsvollen Mutter, Ehefrau und Krebsüberlebenden, deren Einstellung ihre Familie und die Menschen um sie herum dazu inspirierte, sich auf Abenteuer einzulassen und jeden gemeinsamen Moment zu genießen, trotz aller Schwierigkeiten.
---
---
Die Führungskräfte und Mitarbeiter von Royal Caribbean, Familien, Freunde, Reiseberater, Partner der Kreuzfahrtgesellschaft und viele mehr kamen an Bord des größten Kreuzfahrtschiffes der Welt zusammen, um diesen Anlass im AquaTheater, dem unvergleichlichen Unterhaltungszentren von Royal, zu feiern. In der ehrenvollen Rolle der Taufpatin erteilte Marie der Wonder, ihrer Besatzung und den Millionen von Familien, die in den kommenden Jahren an Bord lebenslange Erinnerungen sammeln werden, den Schiffssegen. Mit Marie McCrea auf der Bühne waren Jason Liberty, Präsident und CEO der Royal Caribbean Group, Michael Bayley, Präsident und CEO von Royal Caribbean International, und ihre Tochter Allie, die ihre Mutter im Rahmen einer landesweiten Ausschreibung von Royal Caribbean zum Muttertag, für diese ehrenvolle Aufgabe nominiert hatte.
"Die Wonder of the Seas steht exemplarisch für den Fokus der Royal Caribbean Group auf unvergleichliche Innovation, nachhaltiges Design von Kreuzfahrtschiffen und unser Engagement für einen unvergesslichen Urlaub auf Weltklasse-Niveau – und das auf höchst verantwortungsvolle Art und Weise", sagte Jason Liberty. "Dieser Meilenstein resultiert aus Millionen von Arbeitsstunden, die von den innovativsten Köpfen der Branche geleistet wurden, um das größte und bewegendste Schiff seiner Art zu schaffen."
---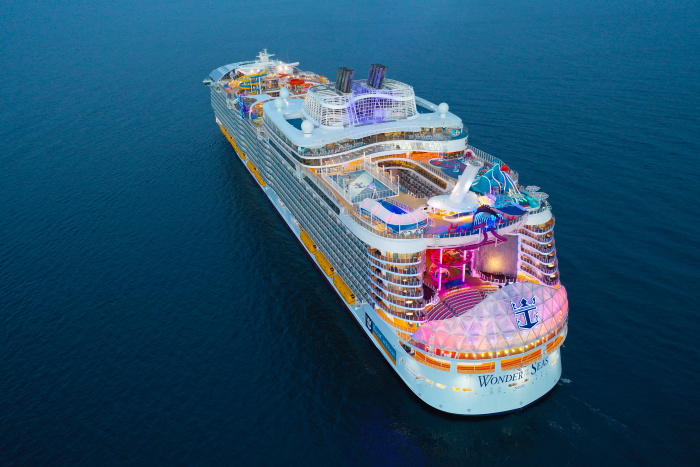 ---
Michael Bayley sagte: "Es war uns eine Ehre, Marie und die Wonder of the Seas offiziell in der Royal Caribbean Familie willkommen zu heißen. Maries Geschichte ist eine Geschichte von unglaublicher Stärke und Familienzusammenhalt, diese Erinnerungen werden ein Leben lang halten. Das sind auch genau die Art von Erinnerungen, die wir mit unseren Gästen und der Crew auf jedem Royal Caribbean Schiff seit mehr als 53 Jahren schaffen möchten. Die Wonder ist das Abenteuer aller Abenteuer. Sie ist das, was Familien auf unseren revolutionären Schiffen der Oasis-Klasse kennen und lieben. Seit sie im März zum ersten Mal in See gestochen ist, hat sie bereits mehr als 180.500 Gästen einen unvergesslichen Urlaub beschert."
Stolz und Freude auch seitens der Taufpatin. "Es war mir eine große Ehre, die Rolle der Taufpatin zu übernehmen und Teil eines so wichtigen Moments für Royal Caribbean und Wonder of the Seas zu sein", sagte Marie McCrea und ergänzte: "Meine Familie an meiner Seite zu haben, um dieses unglaubliche Schiff zu feiern, war eine weitere Erinnerung, die wir gemeinsam und mit unserer neuen Royal Caribbean Familie geschaffen haben, die ich nie vergessen werde."
Geschaffen zum Sammeln von unvergesslichen Erinnerungen bringt die Wonder Kinder und Urlauber aller Altersgruppen zum Staunen und sorgt in ihren acht Stadtvierteln für abenteuerliche Erlebnisse. Das neueste Schiff der revolutionären Oasis-Klasse von Royal Caribbean bietet eine Reihe von neuen Abenteuern und beliebten Erlebnissen für die ganze Familie. Zu den Highlights gehören die Suite Neighborhood, die neue, achte Nachbarschaft, die die Gäste der Royal Suite Class auf einem erhöhten Suite-Sonnendeck mit Tauchbecken und Bar, der ultimativen Familiensuite und vielem mehr willkommen heißt, dazu das erste Mason Jar Southern Restaurant & Bar, das zum Brunch, Abendessen und zu später Stunde südliche Delikatessen und Klassiker mit einem besonderen Touch serviert, sowie ein neuer Unterwasser-Spielbereich für Kinder, das Wonder Playscape. Dort warten unter anderem Rutschen, Kletterwände und fantasievolle Puzzles.
Von mehr als 40 Restaurants, Bars und Lounges bis hin zu wiederkehrenden Favoriten erwartet die Reisenden auf der Wonder auch The Ultimate Abyss, die höchste Rutsche auf See, der FlowRider Surfsimulator, Kletterwände, die Perfect StormRennwasserrutschen, neu gestaltete Bereiche nur für Kinder und Jugendliche sowie vielseitige und ansprechende Unterhaltung auf den vier "Bühnen" Luft, Eis, Theater und Wasser.
Weitere Einzelheiten zur Wonder finden Urlauber auf der Website von Royal Caribbean. Das neue Schiff bietet ab sofort 7-Nächte-Kreuzfahrten in der östlichen und westlichen Karibik ab Port Canaveral zu idyllischen Orten in der Karibik an, wie zum Beispiel die Privatinsel der Kreuzfahrtlinie, Perfect Day at CocoCay auf den Bahamas, St. Thomas, St. Maarten, und Mexiko. Mehr über Marie McCreas unglaubliche Geschichte gibt es auf TikTok.
Text: PM Royal Caribbean International