Pressemitteilung
Swan Hellenic announced the christening of its new ship SH Minerva at the Helsinki Shipyard during a small private ceremony this afternoon with godmother Johanna Mäkelä, Finland's first professor of food culture and wife of Helsinki City Mayor Juhana Vartiainen. Mayor Vartiainen was also present, along with Swan Hellenic CEO Andrea Zito and Helsinki Shipyard CEO Carl-Gustaf Rotkirch with top management.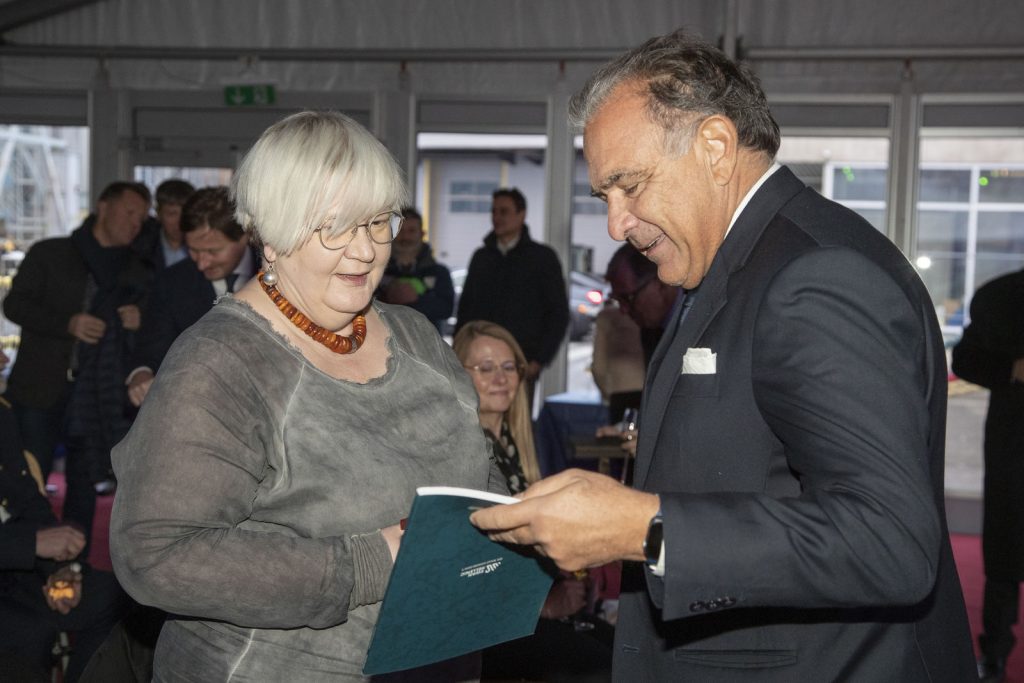 The celebration follows global supply chain disruptions and recent spikes in COVID-19 cases in Finland, which caused Swan Hellenic to take the difficult decision to delay the start of Minerva's inaugural season, preferring to cancel its first two cruises rather than risk in any way compromising the highest standards of quality and safety.
SH Minerva is scheduled to depart the shipyard early next week.
At the christening, Helsinki Shipyard Project Manager Jonas Packalén commented: "We are glad to see this day finally, following the many global challenges that made our task far from easy. Our special thanks to everyone involved in the project for their unstinting dedication and superb work!"
Swan Hellenic CEO Andrea Zito added: "I, too, would like to congratulate everyone at Helsinki for their impeccable work in difficult circumstance and the tight safety measures which have kept SH Minerva a safe environment at all times. The vessel has been completed after only 26 month from the signing of the contract which is a remarkable achievement. We now very much look forward to taking our guests to see what others don't, exploring in exceptional comfort and style."
Text: PM Swan Hellenic
---
Swan Hellenic: Erster Neubau »SH Minerva« in Helsinki getauft 
Pressemitteilung vom 25.11.21
Kleine Tauffeier auf dem Werftgelände in Helsinki 
Fertigstellung verzögerte sich durch Corona-Pandemie und Unterbrechungen in den weltweiten Lieferketten 
Frisch getauft auf den Namen »SH Minerva«! Der erste von drei Neubauten der legendären Kultmarke Swan Hellenic. Es war eine kleine und private Tauf-Zeremonie: Nachdem die weltweiten Unterbrechungen der Lieferketten die Fertigstellung des 5-Sterne-Neubaus »SH Minerva« verzögert hatten, kam zuletzt die sprunghaft gestiegene Zahl an Covid 19-Infektionen in Finnland hinzu. So gab Johanna Mäkelä, Finnlands erste Professorin für Esskultur, dem ersten der drei Neubauten von Swan Hellenic ihren Namen.
Dazu Andrea Zito, CEO von Swan Hellenic, der die Taufe mit dem Vorstandvorsitzenden der Helsinki Schiffswerft, Car-Gustaf Rotkirch, begleitete: "Ich möchten Danke sagen und allen zu einer tadellosen Arbeit gratulieren, denen es in Helsinki unter schwierigen Umständen und unter den strengen Sicherheitsmaßnahmen gelungen ist, »SH Minerva« perfekt zu bauen. Das Schiff wurde nur 26 Monate nach der Vertragsunterzeichnung fertiggestellt, was eine bemerkenswerte Leistung darstellt. Wir freuen uns nun darauf, unsere ersten Gäste zu begrüßen, die sehen, was andere nicht sehen, und sie mit außergewöhnlichem Komfort und Stil auf Entdeckungsreisen zu schicken."
Gleichzeitig gab Swan Hellenic die Verschiebung der Premierenreise bekannt. Die ursprünglichen Expedtions-Kreuzfahrten zur Sonnenfinsternis und über Weihnachten finden nicht statt. Anfang der kommenden Woche soll »SH Minerva« die Werft in Helsinki verlassen.
Alle drei neuen Expeditions-Kreuzfahrtschiffe erfüllen höchste Abgasnormen
Das 5-Sterne-Schiff »SH Minerva« (152 Gäste) stellt die nächste Generation von Expeditionsschiffen für polare Gewässer dar. Sowohl »SH Minerva« als auch das im Frühjahr 2022 folgende Schwesterschiff »SH Vega« werden von einem dieselelektrischen 5-Megawatt-Antriebssystem mit selektiver katalytischer Reduktion angetrieben, das maximal 3 Megawatt aufnehmen kann. Dazu kommen ein Batteriepaket, ein eisverstärkter PC5-Rumpf und ein Safe Return to Port-System. Die drei Neubauten von Swan Hellenic sind auf minimale Umweltbelastung ausgelegt und erfüllen höchste Abgasnormen. Die Batteriepakete ermöglichen eine Emissionsfreie und leise Einfahrt in Häfen und sensible Regionen
Alle neuen Expeditions-Kreuzfahrten der legendären Kultmarke Swan Hellenic sollen auch von deutschsprachigen Lektoren begleitet werden.
Weitere Informationen: www.swanhellenic.com
Text: PM Swan Hellenic